by Ed Schenkenberg van Mierop.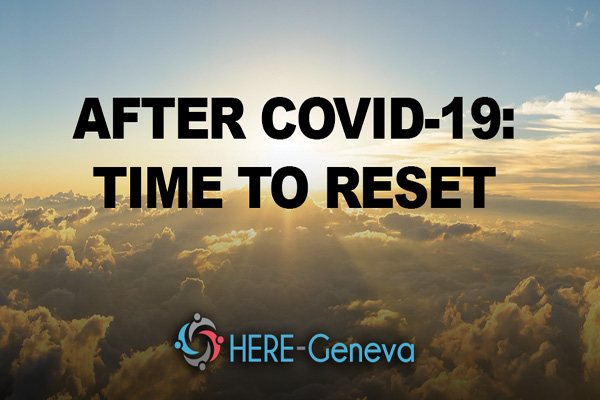 COVID-19 is sending shockwaves through our personal lives and the societies in which we live. No country, however developed, however resilient, will emerge unscathed. But the pandemic will also have a lasting impact on the way humanitarian response is delivered.
Humanitarian organisations are sounding the alarm, fearing the impact COVID-19 could have in warzones, camps and settlements of displaced people, and slums: those spaces in which the most vulnerable and least visible members of our global society can be found. Recognising the world's interdependence, it is vital that these messages do not fall on deaf ears. Especially when the consequences of COVID-19 will push the most vulnerable societies to the brink of their capabilities. 
Organisations anchored in the developed world can expect calls for help with domestic public health responses, and are likely to be asked to provide relief and assistance in their own backyards. Notions of 'international assistance' are rapidly morphing into 'local response.' And what is done locally has profound implications across international borders. Following a pandemic in a globalised world, nothing will stay the same. In humanitarian response, there will be a 'before' and 'after' COVID-19.
Sooner or later, questions will arise as to what the post- COVID-19 humanitarian landscape might look like. Many of the most significant sector-wide reform processes in recent times followed mega-crises. The birth of humanitarian standards of the late 1990s was facilitated by the reaction to the failures in delivering aid in the aftermath of the Rwandan genocide; the Indian Ocean Tsunami and the Darfur genocide engendered Jan Egeland's clusters in 2005, changing the way in which humanitarian response was coordinated; and the 2010 Haiti earthquake and Pakistan monsoon floods saw the Valerie Amos-led creation of the transformative agenda to strengthen accountability for sub-optimal performance.
One exception to this five-year reform cycle might be the Grand Bargain agreement of 2016 between donors and agencies, which was not directly triggered by a specific crisis on the ground, unless the unstoppable growth of the gap between humanitarian needs and available resources can be considered as such. COVID-19 may be the ultimate push to rethink better humanitarian preparedness worldwide. 
Even before this crisis, informal dialogue was underway on the next wave of humanitarian reform. Prompted by less than optimal delivery on several of the Grand Bargain commitments, and an over-concentration on others, the current humanitarian business model is under scrutiny. As Patrick Saez recently observed: "money is usually disbursed after a disaster has struck, even when that disaster was predicted." Indeed, in the synthesis of his extensive research on the future drivers of humanitarian crises in 2009, Randolph Kent concluded that an inter-pandemic period – the time interval between pandemics – "is not conducive to securing donor funding or media attention." 
So, what will (have to) change in the post-COVID-19 era? How is this pandemic forcing us to reset the way in which humanitarian response is delivered? 
First and foremost, there will be a further push to 'localise' humanitarian response. This pandemic, and in particular the related travel ban, will be used as evidence that the notion of 'overseas aid' is increasingly outdated, inefficient, and ineffective, if not unethical. Strengthening the capacity of local and national responders to take care of their 'own' in times of crisis is the preferred way forward. 
This thinking is not new. The past decade has been dominated by the trend of moving humanitarian action in the direction of a more developmental approach focused on resilience and sustainability. The localisation of humanitarian response is an integral component of this trend. 
It is therefore regrettable that, after garnering such significant momentum at the 2016 World Humanitarian Summit, the localisation discourse became dogmatic and polemic as soon as money was at stake. As a result, this debate has largely ignored the notion of complementarity based on the added value that organisations from diverse backgrounds can bring. 
Developed to meet the Grand Bargain localisation funding target, a 2017 bureaucratic categorisation of who is 'local' and who is 'international' in humanitarian aid also denied in-country realities. In HERE's research, we work with international NGOs that have been in countries for decades and with local NGOs that are brand new. The Starbucks on the corner may be an international company, but it is still the local coffee shop. If a categorisation of humanitarian organisations is to be made, it should not be based on arbitrary labels but on strengths and weaknesses. It is time that the thin line between coordination and competition in humanitarian response is no longer the elephant in the (virtual) meeting room.
Here is where it could be helpful to press the reset button following COVID-19. HERE's recent research provides evidence that critical priorities such as access to people most in need and protection are more prominent in the minds and work of NGOs that have integrated the core humanitarian principles at the strategic level. Agencies for whom the core principles are separate from their own organisational values are more focused on concepts such as 'self-reliance', suggesting they are well-placed to work on bolstering resilience and driving the empowerment of affected populations. 
To be clear, there is no right or wrong in this, nor, necessarily, an 'either/or.' One does not trump the other: both are required. But this observation should push organisations (and donors) to be up-front about their added value. What do they want to achieve in different contexts? Are they equipped to do so? HERE's forthcoming study on the 'mandates' of non-UN agencies (to be published in April 2020) provides some important lessons in this respect. 
It is high time to shift the discourse and reform humanitarian response in a way that harnesses diversity by looking at the complementarity between the different actors – and building on it. And when the moment comes, HERE stands ready to contribute its research and analysis to the debate on the post-COVID-19 future of humanitarian response.