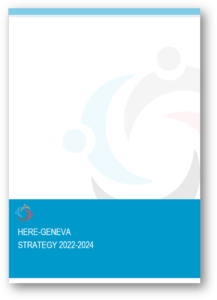 The year 2022 marks the eighth anniversary of HERE-Geneva. In the past eight years, new crises have unfolded, humanitarian discourse has evolved, and yet remarkably little in the humanitarian system has changed.
This is not for want of possible inflection points: the 2016 World Humanitarian Summit, the devastation in Syria, and the global rampage of COVID-19 each had the potential to transform humanitarian action. And, yet, while each contributed to the evolution of humanitarian rhetoric, none led to anything that could be considered meaningful reform. To change, the humanitarian sector seems stubbornly resistant.
What has changed is the threat to which the humanitarian sector is vastly exposed. Climate change is already leading to an increase in, and intensification of, disasters and an upsurge in conflict. The confinement and exploitation of those forcibly displaced will grow as their numbers continue to dramatically rise. The securitisation of global public health – thanks, in part, to COVID-19 – and the growing influence of digital technologies on both communication and control will impact humanitarian access. And the credibility of the global system – especially that of the UN – will keep falling as its ability to solve complex global challenges in the face of intense nationalism continues to be challenged.
HERE was founded on the belief that bridging the gap between policy and humanitarian practice is fundamental to making humanitarian action more effective. The humanitarian system's current abundance of pledges and commitments sits in stark contrast to their implementation. Providing evidence of the growing gap between such pledges and commitments and the reality on the ground has never been more important.
To this end, we're excited to unveil the HERE-Geneva Strategy for 2022-2024. In it, we outline our expected direction of travel for the next three years. Here are the broad strokes in summary:
Contributing to the respect for, and protection of, principled humanitarian action
We're living during a time when respect for principled humanitarian action is under increasing pressure. And amid access restrictions, counter-terrorism measures, and the tight earmarking of funds, many organisations are reluctant to speak out. Yet, given that humanitarian principles provide the ethical basis on which humanitarian action takes place, HERE will continue to examine humanitarian action, be it from governments or organisations, in light of their commitments to uphold these principles.
Providing analysis that advocates for meaningful systemic change
In previous rounds of humanitarian reform, too much emphasis has been placed on cosmetic changes and technocratic solutions. More needs to be done to address the systemic issues that will usher in fundamental – and meaningful – change. HERE will continue to convene events to stimulate critical thinking and mutual learning among diverse actors in order to better understand and address those forces obstructing systemic change.
Humanitarian system change is only ever practical and meaningful if lessons are learned from prior attempts at humanitarian reform. And yet, the institutional memory of the humanitarian sector is fleeting. HERE will bolster that institutional memory, bringing lessons from the past to bear on current and future debates. Because HERE is independent and unaffiliated, we are able to provide the space and the leadership for frank and honest debate.
Consolidating HERE's achievements
HERE's self-directed research agenda is complemented by the organisation's commissioned work, and we will continue to drive greater syntheses between the insights gained from each.
We believe that this strategy will help us to envisage – and work towards – a humanitarian system driven not by empty rhetoric and terminological trend, but by policy change grounded in evidence. Our independence gives us a unique voice in the sector, one that is able to speak truth to power through objective analysis and vocal discussion. And while our research is often granular in focus, its impact is systemic, and we will continue to inform and drive system change.
Thank you to all those who have joined us on the journey thus far: we hope to see you somewhere down the road as we implement this strategy over the next three years!