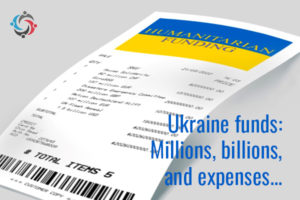 The outpouring of solidarity with Ukraine has been overwhelming and heartening. In just four weeks, millions of ordinary civilians have been forced to flee the shelling of their towns and villages, while many of those remaining behind have been placed on the brink of survival. Hundreds of millions of dollars have been fundraised through European public-private collective appeals, such as the Belgian 1212, the Dutch Giro 555, the German Aktion Deutschland Hilft, Swiss Solidarity, and the UK-based Disasters Emergency Committee. Similar swift and generous responses have been seen among donor governments. It has been described as "among the fastest and most generous responses a humanitarian appeal has ever received".  At a count, close to 3 billion US dollars has been made available for humanitarian aid to the Ukrainians. At first sight, this is good news. Ukrainians are calling for help and donors are responding. On second thoughts, maybe less so: spending these funds will be more complicated than receiving them.
There are several complications for spending the funds for Ukrainians in need. First of all, as seen in other crises, it is Ukrainian volunteers and local initiatives who are the first responders. Much of the aid entering the country happens through alternative Ukrainian channels. Medicines and other relief goods are transported in the back of private cars. It will take time for these volunteer groups to benefit from those funds dispersed by the UN and others, if at all, for they may not meet the bureaucratic requirements imposed by international agencies' financial controllers and auditors.
Secondly, too many international agencies evacuated their international staff as soon as the first bombs hit. The proliferation of aid agencies in the last two decades has not been matched with a similar increase in the capacity and expertise to work in situations of armed conflict. War zones are generally referred to as 'hard-to-reach areas' in many of today's conflicts, without greater verification of the circumstances or efforts required to negotiate access.
Thirdly, many of the millions of refugees have been received by rich European countries and will be included in these countries' social protection systems. Contrary to other refugee crises, this time there will be no camps where aid agencies can wave their flags and allocate (and compete for) geographical areas in which to deliver their services. Some of the collective appeals mechanisms are wondering if and how they can spend the funds earmarked for Ukrainian refugees in their home countries. Did Swiss citizens send funds to Swiss Solidarity to be spent in Ukraine and its direct neighbours, or for Ukrainian refugees settled in Switzerland?
Fourthly, those organisations planning to enter or scale up their presence in Ukraine should urgently reflect on the question of whether they are willing to work in Russian-occupied cities or areas. International humanitarian law contains extensive obligations for what it calls the Occupying Power in terms of assisting the civilian population. The Russians will oversee all aid going in, causing serious delays. In fact, signs of the Russian interest in controlling, if not manipulating, impartial humanitarian responses have already been seen at the UN Security Council last week, where Russia initially tabled a draft resolution calling for aid access and civilian protection while ignoring why this has become so essential since 24 February. The draft resolution did not go to a vote, but Russia's intentions are clear. Negotiating humanitarian access invoking the principles of neutrality and independence with the Occupying Power will be laborious and arduous.
Fifthly, the funding is for humanitarian aid: the expectation is that it should be spent now and in the coming months. However, with the near-total destruction of civilian buildings in cities, including hospitals, schools and other communal buildings, there will be a huge need for funding in support of reconstruction. Questions arise as to when (and how) the funding thus far raised should be spent.  
Against this background, aid agencies, especially their fundraisers, should take several critical actions to enhance the accountable delivery of humanitarian aid. These are but some:
Turn the Ukraine appeals into a general humanitarian appeal for all wars happening right now. The recent pledging conference for the crisis in Yemen raised less than one-third of the 4.3 billion US dollars requested. With the Yemen appeal, as with many others that are severely underfunded, there should be flexibility in using the privately-raised funds elsewhere. Even more so because the effects of the war in Ukraine are resulting in prices of wheat, sunflower oil, and other essentials rising globally. This is likely to result in increased hunger and food needs, predominantly in the world's most vulnerable areas.
In relation to the aid for Ukraine, be clear and transparent on where, when, and on what the funding will be spent. Will it be spent inside Ukraine? On refugees in (Western) European countries? Will it be spent on reconstruction?
Openly discuss the questions of if and how aid will be delivered in Russian-occupied areas in Ukraine. European public-private appeals mechanisms have extensive experience in fundraising for disasters, such as floods and earthquakes. Advancing a public narrative around providing aid in wartime is significantly more challenging, not least when perceived adversaries may control and manipulate that aid.
Commission, as a matter of urgency, independent review(s) in real-time to accompany aid agencies in planning their efforts and making hard decisions on priorities.
With a voluntary system of contributions, there is always a high degree of unpredictability in the funding available for humanitarian responses. But the amount of funding is not indicative of quality: that depends on how aid agencies choose to spend it.
More Blogs: